Nothing will work unless you do.
Ditch the Resolutions for the Bucket List
January 7, 2019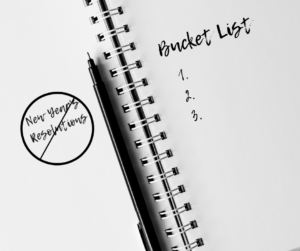 Save money. Get in shape. Find a new job. New Year's resolutions play like a broken record, year after year, with the needle stuck on the same screeching groove.
Here's a suggestion: flip the record and sing a new tune. Instead of listing the things that don't make you happy, try making a playlist featuring a few favorite things on your bucket list.
Sing Your Own Song
With the bucket list approach, prioritize your most important and cherished goals. That dream vacation destination. The music artist you've always wanted to see perform. Watching your favorite sports team, live.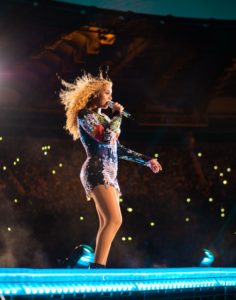 Visualize the mesmerizing power of the experience, the memories that last forever, and the pure joy of the moment. If you recognize the audacity of your dreams, you won't mind planning to achieve them.
There's something about a bucket list that ignites urgency, that burning passion to connect with something more fulfilling. After all, these aspirations have a real deadline (pun intended).
From Dream to Reality
Why not dust off your bucket list and let your dreams sparkle again? You might discover that by focusing on your bucket list, you can get your groove back with achieving your goals.
For instance, let's say that one of your bucket list items includes a three-week trip to the Fiji Islands. What would it take to have money to pay for the trip, a worry-free vacation from your job, and confidence in your swimsuit for the social media post that attracts "likes" by the dozens?
First, consider creating a Fiji travel fund. If you set an auto-deduction of $25 per pay period to a money market account, you would save $650 in a year (assuming 26 bi-weekly pay periods). If the trip costs $5,000, your travel date would be eight years from now…which might be perfect for a milestone birthday celebration.
Voilà! You're now motivated to save money while paying your bills and living your life.
Want to travel sooner? Increase your auto-deduction. Deposit the reward member savings detailed on your grocery receipt. Save a portion or your entire tax refund. Do the same for the year-end bonus. Set up an online account that helps you save, such as Simple and YNAB.
Next, think carefully about your work situation. Are the managers loyal to you, or do you anticipate having a box of your belongings waiting for you at the security desk when you return from Fiji? Or would you expect to extend belated congratulations to your underperforming co-worker who was promoted – while you were away – to the middle manager position slated for you?
Voilà! You're now motivated to find a new job and make 2019 the year your career goes to the next level.
Business as usual doesn't have to be your MO. Remember, we're flipping the record. Challenge yourself to assess your market value and opportunities, even if you ultimately decide to remain a dedicated employee in your current job. Keep your employer honest. Search sites such as LinkedIn, Glassdoor, and Indeed for current reviews and job opportunities.
Let's not forget your vision of donning a string bikini (gender neutral) as you sip a fresh Pacific cocktail by the infinity pool.
Voilà! You're now motivated to get in the best shape of your life.
Focus on What Matters
By focusing on your bucket list items, you may start second-guessing urges to fund a calorie-rich beverage allowance, to swipe your credit card on frivolous clearance sale items, or to settle for second-class citizen treatment by your employer. You know what you want. Simply remove the obstacles standing in your way.
Let your bucket list pave the way for success in reaching your goals. By keeping the spotlight on your dreams, you create the conditions for developing good habits—which then translate to other aspects of your life. Learn to value having a plan with actionable, measurable, and achievable steps—the secret to life planning (aka financial planning).
Cheers to getting in a groove and letting the music of life play! You'll love every note!
---