Nothing will work unless you do.
Are You Ready for a Ridiculously Amazing 2016?
October 6, 2016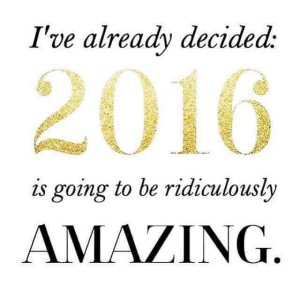 What have you already decided about 2016? Do you have great expectations?Everyone has hopes and dreams. Many people set goals, especially in the New Year. Yet, few consistently take action to achieve success.
Granted, it's not easy to move from wishing and hoping to deciding and doing. Life presents twists and turns. Unforeseen events and circumstances arise and surprise us. But that's why we need to hold on to the vision we've set for ourselves and our lives.
Your mental state is a huge factor in your success—including your financial success. When you reach the point where your mind is made up, you won't give up, bottom out, or become sidetracked.
It doesn't matter whether you've been fighting through tough times, you've had a little success and want more, or you're starting fresh and are energized by the concept of a new beginning. Now is the time to take action to improve your financial situation.
Start by clearing your mental space and allowing new thoughts and good energy to reside. Clear thinking sets the stage for good decision making and positive action.
Next, choose at least one action that will count as a victory on your journey to financial success in 2016. Here are some ideas to get you on your way.
Increase your retirement contribution by at least 1%, or if you are well on your way, plan to max out by stretching the $18,000 regular contribution limit over 2016, starting with your next pay period and ending with the last one in 2016. If you are 50 and older, consider making the additional $6,000 catch-up contribution.
Save at least one month of your expenses by the end of 2016. Invest these funds in your emergency savings account if you have less than 3 to 6 months of expenses saved. If you have reached this savings goal, invest the savings in a personal brokerage account or IRA, if you qualify. Tip: Transfer funds via automatic payroll deduction or bank draft from your checking account.
Claim what you are worth by tightening your business strategy as an entrepreneur growing your business or as an employee seeking a promotion or a new job.
If these actions seem intimidating, consider partnering with Financial Fountains on your financial journey. You can reduce stress and achieve results by having expert advice as you make this year your best year yet. Invest in you!A made-up mind is powerful. I've decided that 2016 is going to be ridiculously amazing, and I am convinced that it can be for you, too!
Are you ready to make it happen?
---