Nothing will work unless you do.
Reflections from an InvestmentNews Woman to Watch
July 6, 2017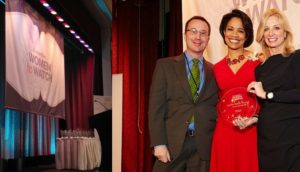 I was grateful and amazed when I learned that I was being honored as one of the InvestmentNews Women to Watch. I was named as one of 20 financial advisers and executives selected by a rigorous process designed to identify women who are distinguished leaders, who share their knowledge and experience with others, and who are elevating the financial planning profession.
In my acceptance speech, I shared some of the lessons I have learned along my journey that have helped me to stay the course. It is my hope that you will find value in these lessons as well.
Remember: Remember those who have paved the way—past and present.
I call into remembrance the names of many who have inspired me to provide financial planning to underserved and underrepresented populations—middle America, women, and people of color. I specifically resonate with Harriett Tubman, the Moses of our People. Harriet conducted the Underground Railroad, fearlessly leading many slaves to freedom and later fighting along with the Union Army for a liberated America.
Harriett inspires me to fight for a financially liberated America as a Certified Financial Planner® professional—one person, one household, one institution at a time. It is gratifying to help people develop and show them how to follow a plan to make the most of their income, assets, and other available resources; prepare for the unexpected; live their dreams; and make a difference for their family, community, and future generations. Closing the wealth gap makes a better, just society for the common good of all.
Reflect: Reflect on how we should continue and advance the progress made by our ancestors and great pioneers in the struggle for social and economic justice.
Appreciating the struggles of my ancestors and other pioneers compels me to embrace the challenges and sacrifices along the path to uplifting humanity. They survived hostility in many forms; yet they prevailed and changed the face of America.
Entrepreneurship has enabled me to set a new course that is a departure from business as usual in the financial planning profession. The calculated risks have proven to be worth the cost of blood, sweat, and tears for me and my family. We will continue to press on along with others who share the vision of equal access to opportunities that enhance the human experience.
Restore: Restore the joy that comes from serving others by taking a moment to step back and replenish.
To say YES every day to the journey requires that we find the balance between relentless pursuit and relinquishment. When it becomes difficult (and it will), keep the big picture in mind. It's a long haul—one that spans centuries. It's tempting to move at full-throttle speed constantly. Burnout is no one's friend; it can end the journey abruptly to the detriment of generations to come.
Find friends and colleagues who can share the load and have an appreciation for safe space to wrestle with the vision that is bigger than any one of us. Restoration also means investing in those who can benefit from the lessons you've learned. Sometimes, it can be a simple thing; you can make a difference with a smile.
With or without awards and recognition, we are people to watch. Let's invest our lives in what matters most. Let's intentionally be those who take the lead, who share our knowledge and experience, and who elevate the people and community around us.
If eyes continue to watch this woman, I hope they see a person who passionately desires to remember those who came before her, reflect on those who share her passion, and restore those on this journey to economic freedom for the common good of all.
Let us continue the journey to make 2016 the most ridiculously amazing year ever!
---